Equipment
Click below to view a video sample of the Master 43 at work.

(4.5mb download, so give it a few seconds to load)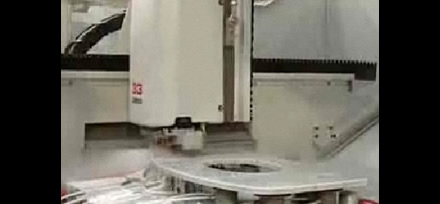 MGS Company utilizes state of the art technology for the fabrication and production of granite and stone countertops. From digital templateing to 4 CNC granite machines, we can not only ensure the accuracies of your countertops but we can complete your job in a much shorter timeframe. With our 4 CNC machines MGS Company is capable of producing 15 full kitchens a day, so if you have a large project that requires a tight timeline we can help you beat it. With CNC technology we are capable of the finest detail required of your next countertop project.
Our 4 CNC machines have the largest table accommodations on the market to allow for the largest of islands to be produced with no joints. All sink-cuts and edgings are machine finished to allow for the most quality consistency. Along with our 2 digital bridge-saws, MGS Company has become one of Edmonton's most high volume out-put granite company.
The Process: Our professionally trained templaters utilizes digital templating system to acquire your countertop template in a CAD format. The CAD file will be refined to meet all your personal touches and preferences you want with your countertop. After the file is complete this info is sent to our CNC machines and combined with other digital templates, like your sink cut outs and faucet hole placements all information and data is inputed into the system where with a push of a button your countertop is cut, polished and finished to your requirement.
Our Digital system from beginning to end ensures unsurpassed accuracy and with mulitiple CNC's running, with unsurpassed efficiency and timeline, MGS Company can help you with your next project big or small.