Countertops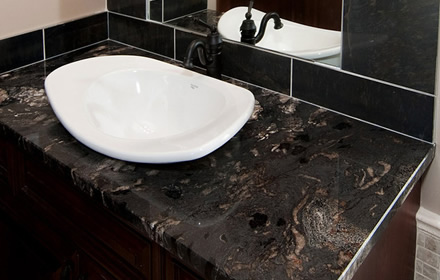 In today's housing and commercial real estate market, nothing says quality like natural stone countertops in the kitchens and bathrooms. But it's more than a status symbol. It's also extremely durable, functional and, of course attractive. The huge variety of colors, materials and finishes available mean that you will almost certainly find the stone that fits your design ideas perfectly, whether it's a brand new project or a rennovation.
The most popular material for kitchen countertops by far is granite. Granite is an extremely hard material, making it the best choice for standing up to the rigours and abuse of a busy kitchen. Installed correctly, it is also extremely heat and stain resistant. In the bathroom many people choose a marble or travertine to give a more luxurious and classic look. But these choices are by no means the only choices and there are new materials (such as engineered stones) being added all the time.
Be sure to talk to your sales representative about your project, big or small. Their knowledge of, and passion for, stone will amaze you.