Care & Maintenance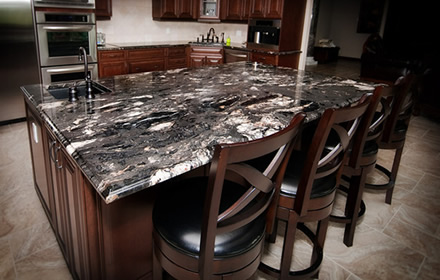 Maintenance and daily cleaning.
All granite countertops produced in our company has been polished to the highest clarity. When cleaning use a soft white cloth combined with a neutral cleaner or stone soap that doesn't leave streaks or strands behind. Appropriate cleaners are stone soaps, conditioning cleaners, neutral cleaners and mild dish detergents. Do not use list includes; abrasive cleaning pads, general purpose kitchen cleaners, window cleaners, vinegar, soft paste cleaners, powdered alkaline cleaners, ammonium products, toilet bowl cleaning products, and tub and tile cleaners.
Etching effect or dulling of the natural shine of granite can occur when acid-based substance; such as vinegar, alcohol, orange juice, soft drinks, etc. is spilled or used on the granite. These can cause dull spots or rings to appear on the surface. In the event of such a problem arises a polisher must be reapplied to restore the shine, in more severe cases etching can cause permanent damage to the granite. Oil and oil based products can enhance the breakdown of the sealants and seep into the pores of the granite. Blot up spills immediately to prevent such damages and potential problems to occur.